Well finally the summer has arrived (maybe?) and I hope you will be taking some well earned time out. July and August are popular months for a lazy summer break. Whether you go away or stay home time off allows you to step out of your usual routine. However, it shouldn't be seen as a chance to let all your good habits go so you end the holiday in a worse state than you started! Over the next 4 weeks I will pass on some hints and tips for having a healthy and happy holiday without spoiling all the fun.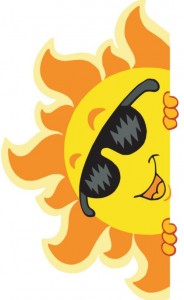  Travelling – eat before you travel so you can avoid the fast foods at stations and airports. Avoid alcohol or balance with plenty of water particularly on a flight so you don't arrive at your destination dehydrated.
 Local delicacies – whether it's Jamaican rum cake or Cornish clotted cream scones be careful not to overindulge. Please note I said 'over' indulge as it is a holiday and you want to indulge a little bit. Balance the indulgence with a healthy dinner of fresh fish with plenty in season vegetables perhaps.
 Meet friends that lift your spirits rather than the energy vampires. This is your holiday and you should spend it with people who inspire that fiesta feeling not those who bring your spirits down. Spend your time off with the sunshine folk.
 My best tip for the holiday? Have fun! 'nuff said?
Next time a look at diet and exercise while on vacation.